Services at St Andrew's Church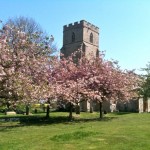 Church address : St Andrews Church, The Causeway, West Wratting.
Sunday Worship 10.45am
3rd Sunday of the month – Family Service.
5th Sunday of the month – Benefice Service (may be in a different church)
Other Services are:
A mid-week Communion Service is held every Thursday morning at 10.00am at The Holy Trinity Church, Balsham, for all seven churches.  All are welcome.
The Mothers' Union is especially remembered on the first Wednesday; the fourth Wednesday takes the form of a healing service.
Morning prayers take place on:
Monday at 9.15am at Balsham
Wedneday at 9.15am at Hildersham
Thursday at 9.35am at Balsham
Friday at 8.30am at Little Abington
Everyone is welcome to come along.
The Julian Group normally meets  on the first Wednesday of each month.  If interested in joining this meditative group please contact Rev Kathy Bishop on 01223 892288
See Mothers' Day posies at St Andrew's 2014 here