Brief history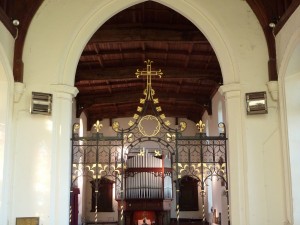 The original Saint Andrew's Church building dates c1310 when a large chancel, nave and two-stage tower were erected. A belfry and clerestory windows were added during 15th century. In 1737 Italian craftsmen remodelled the nave in a Venetian style, installing an elegant marble font, singers' gallery, new seating and a three-decker pulpit. Restoration in 1897 returned windows to their original shape and the gallery, three-decker pulpit and font were removed.
A fourteenth century arch separates chancel and nave, where, prior to Reformation a magnificent rood screen, outside staircase and loft once stood. In many churches local minstrels used the loft for playing during church services.
Some further interesting facts about St Andrew's Church:
The arch was restored to its original condition in 1897.
An elegant wrought iron screen was inserted in 1922. Parishioners painted and re-gilded the screen during 2003.
In the chancel can be found a fine example of a pre-Raphaelite window.
Music is played from a Victorian organ built in 1895.
The ring of bells was augmented to six for the millennium. The original tenor, recast in 1860 may date back to c1330.
(contributed by Anthea Robinson)