Bridge Club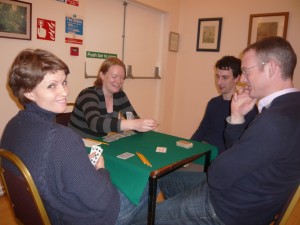 Our friendly and informal Bridge Club meets on the  first Friday of every month at 7.30pm in the Village Hall.  All are welcome including new players and players from neighbouring villages.  Partners are not necessary.
We play Chicago Bridge and usually change partners several times during the evening.  We break for drinks (wine or tea / coffee) and nibbles.
There is a charge of £1.50 per head to cover the cost of hiring the hall.
If you are interested in finding out more please contact Sherry O'Donovan