Choirs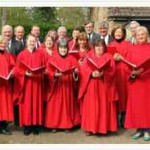 The Four Churches Choir  practices in Holy Trinity Church, Balsham every Monday evening from 19:45 to 21:00.
Currently we are a group of about 16 strong, comprising Sopranos, Altos, Tenors and Basses. We welcome new singers (and no audition is necessary). We mainly sing traditional church choral music.
The choir is lead by Richard Skinner GRSM ARCM, the organist at Holy Trinity, Balsham.
If you would like to try out singing with us, please contact Richard Skinner for more information. Send email to Richard Skinner or call him on 01638 731735.
We normally sing in our local benefice Churches (West Wratting, Balsham, Weston Colville and West Wickham) and occasionally at weddings in nearby parishes (for which we have been paid).
We are currently looking to supplement our choir robes and surplices, so if there are any redundant choir robes in Cardinal Red lurking in vestries for adult singers please contact us.
We would also be interested in any portfolios of choir music (anthems, settings etc) that may be unused and in need of a good home.
Abington and Hildersham Joint Choir meets at Holy Trinity, Hildersham every Monday at 19.30.  All welcome for some fun making a joyful noise to God without any inhibitions.